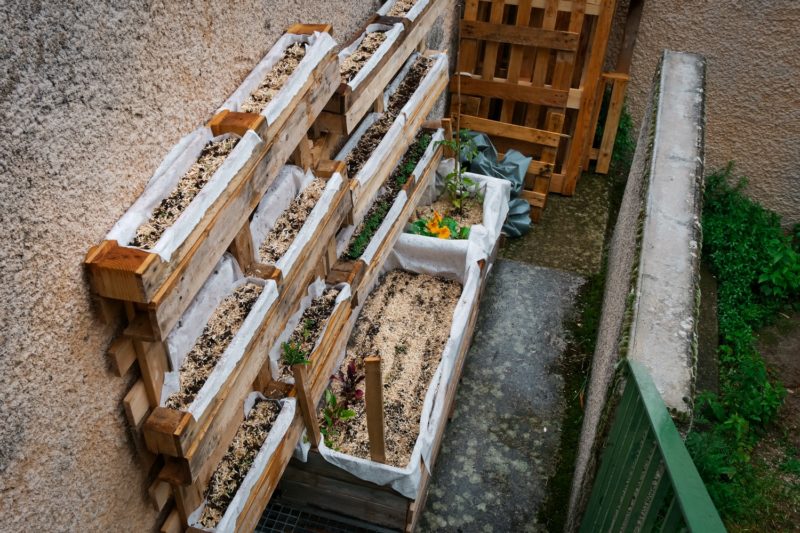 Construction of a vegetable garden using pallets to reclaim my alimentation and experiment with the low tech approach.
Towards an ethical and sustainable future
A year across France to discover lifestyles based on ecology and well-being. A year of learning and enrichment through volunteering, woofings, short training courses, participatory projects centered on three approaches that particularly interest me, permaculture, herbalism and eco-construction.
Keywords: transition, resilience, permaculture, ecology, transformation, herbalism, eco-construction, low tech, zero-waste, cycling, learning.
My name is Claire B. and I have been running Peregrinus Mundi since 2015.
This site follows my evolution in life in the form of chapters.
Chapters I to VI mainly present travel accounts and photographs. At the end of 2019, after almost five years of traveling, and been just turned thirty, I felt the urge to put my bags down somewhere and embark on a concrete future. I was determined to invest myself in a future linked to my desires and skills, namely photography, videography, documentary, environment. Mid-2020, the corononavirus pandemic completely changed my plans for the future and I felt the urgency to wake up to the real world. Get out of my little personal comfort and face the outside world. It was a feeling that had blossomed during my travel and was getting stronger and stronger. While travelling I had started to discover other ways of life, other cultures, other approaches. As well as the ravages of mass tourism and the destruction of the environment. The crisis increased this feeling tenfold and in a few months I immersed myself in subjects dealing with environmental impact, challenges of society, economy, new possible living conditions, limited resources, idea of resilience, ways of cultivating more respectful of the environment, return to simplicity … I am currently experiencing an awareness that destabilizes me and pushes me to completely rethink my way of living and seeing the world. The task is not easy. So I decided to explore this path for a year in order to try to find answers. Chapter VII therefore follows my process of transition to a lifestyle based on ecology and well-being through three approaches that particularly interest me, eco-construction, permaculture, herbalism.
In order to support my transition to energy sobriety in my everyday life, I have also completely redesigned my site. The new design of the site implemented since January 2021 seeks to reduce its environmental footprint and is in the process of adopting the principles of low tech websites: light, sober, with compressed images, accessible to all and not very resource intensive. Ongoing project.