My name is Claire Blumenfeld and I have been running Peregrinus Mundi since 2015. This site follows the evolution of my life in form of chapters. Chapters I to VI mainly present travel journals and photographs. Chapter VII (coming soon) follows my transition process towards a lifestyle based on ecology and well-being through three approaches that greatly interest me, permaculture, herbalism and eco-construction.
At the end of 2019, after almost five years of traveling, and been just turned thirty, I felt the urge to put my bags down somewhere and embark on a concrete future. I was determined to invest myself in a future linked to my desires and skills, namely photography, videography, documentary, environment. Mid-2020, the corononavirus pandemic completely changed my plans for the future and I felt the urgency to wake up to the real world. Get out of my little personal comfort and face the outside world. It was a feeling that had blossomed during my travel and was getting stronger and stronger. While travelling I had started to discover other ways of life, other cultures, other approaches. As well as the ravages of mass tourism and the destruction of the environment. The crisis increased this feeling tenfold and in a few months I immersed myself in subjects dealing with environmental impact, challenges of society, economy, new possible living conditions, limited resources, idea of resilience, ways of cultivating more respectful of the environment, return to simplicity … I am currently experiencing an awareness that destabilizes me and pushes me to completely rethink my way of living and seeing the world. The task is not easy. So I decided to explore this path for a year in order to try to find answers.
Towards an ethical and sustainable future
In progress since 27th of August 2020 – France
A year across France to discover lifestyles based on ecology and well-being. A year of learning and enrichment through volunteering, woofings, short training courses, participatory projects centered on three approaches that particularly interest me, permaculture, herbalism and eco-construction.
Keywords: transition, resilience, permaculture, ecology, transformation, herbalism, eco-construction, low tech, zero-waste, cycling, learning.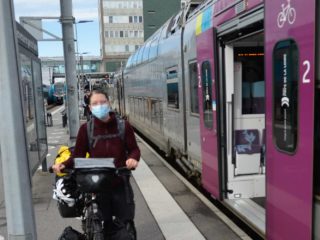 Being confronted with the reality of traveling by bicycle and train in France and questioning myself about my decisions.
Nine months – November 2019 to August 2020 – France
After five years of traveling, I am back in France with the desire to jump in the future. The first step involves the creation of content reflecting my skills and intended for my candidacy in the University of Bristol Wildlife Filmmaking Course. I focus on nature and animals. The world around me. During the months of November, December 2019 and January 2020, I work on the creation of videos, photographs and articles on the subject of Camargue and more broadly on the theme of flora and fauna. I seek to develop my understanding of the environment around me and my observation of wildlife. Then in February 2020, I am back in Chamonix for a second season in hospitality while awaiting the response of my application to Bristol. As I have been working for several weeks, a global health crisis starts following the appearance of a new virus and the world ends up in quarantine.
Keywords: flamingos, Camargue, nature, observation, chamonix, tourism, pandemic, coronavirus, readjustment, decision.
Journey to self-discovery
Five months – July to October 2019 – Scotland and Iceland
In summer of 2019, I leave on a five months journey through Scotland and Iceland. I travel on foot and by bicycle on large wilderness, mineral deserts, inhospitable environments and face the elements in search of a return to simplicity through physical effort. In Scotland, I walk for five weeks on the West Highland Way, the Hebridean Way and the Skye Trail. Then I embark on an expedition to Iceland. Wind is my worst enemy and my best teacher there. It keeps me from advancing and destroys my strength. It teaches me to get rid of my vanity and my pride. To accept unpredictability and impermanence, to discover beauty in every second. I pedal and walk for almost three months, my mind on the alert in this very different world.
Keywords: wind, effort, nature, hiking, cycling, wide open spaces, solitude, magnificence, volcanoes, bogs, talking to myself, mass tourism, raw beauty.
In the flakes of disillusion
Nine months – October 2018 to July 2019 – France and Italy
Back in France after a feeling of "burn-out", I spend seven months working in Chamonix in hospitality. Autumn is magnificent and I take the opportunity to go on many hikes in the valley. The work in the restaurant is interesting at the beginning but the end of the year is very difficult. The depression that I have dragged for years explodes in my face and I endure several difficult months at the start of 2019. After a long black hole, I start to think and explore my mind in search of a way to a better state of mind.
Keywords: catering, tourism, Chamonix, snow, autumn, winter, depression, mountains, magnificent landscapes, personal reflection.
Lost steps in the outback
Fourteen months – July 2017 to September 2018 – Australia
Summer 2017, I leave New Zealand for Australia with the will to work hard there for six months in order to save for a bicycle journey in Asia. But my first job turns into a disaster and I find myself a bit lost. I face the difficulties and cross Australia for fifteen months in a strange state filled with questions and depression. I work in fruit and veggies picking, do volunteering,  discover Tasmania and experience Australian snow. Lots of experiences. But many disappointments too.
Keywords: immensity, heat, disappointments, complexity of exchanges, seasonal jobs, perfect nature, kangaroos, snow, superb Tasmania, animals.
Learning in a quiet country
One year – June 2016 to June 2017 – New Zealand
After a half-hearted trip to Japan, I do not plan to return home and fly to New Zealand. I undertake a different journey made of hard work, learning and discovery. For a year I have the impression of fleeing the future while being almost serene in this country on the other side of the world.
Keywords: seasonal jobs, wide open spaces, volcanoes, Fiordland, primary forests, birds, hiking, cycling, fjords, tranquility, friendliness of the locals, learning.
Between traditions and modernity
Six months – November 2015 to April 2016 – Japan
Mix of technology and ancient traditions, Japan is a land of contrasts that has attracted me since my youth. In mid 2015, at the end of several years of study which left me full of questions about the future, I decid to go alone on a journey across the country. I wander for six months through Kyûshû, Honshû, Okinawa, Shikoku. I discover traditions, food and some very specific aspects of Japanese culture. And faces the language barrier and the weight of history.
Keywords: discovery, temples and shrines, onigiri, Buddhism, volcanoes, wwoofing, onsen, hiking, islands, studio Ghibli, mythology and yokais, geishas, nuclear bomb, cultural identity, misunderstanding.